Yanagisawa Saxophones
Snake has been affiliated to Yanagisawa saxophones for a long time. A fantastic range of horns, they are individually handcrafted in Japan with amazing tone qualities. Whenever Snake visits Japan, whichever sax he takes with him, gets a service from the great craftsmen at the Yanagisawa workshop in Tokyo.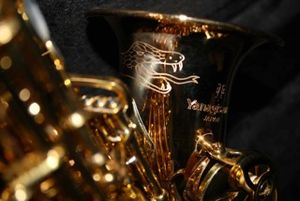 Saxophones
Tenor - My newest and most prized - Yanagisawa TWO37 GP UL Solid silver, brushed gold plate, unlaquered, custom engraved.
Alto - Yanagisawa A992 UL bronze un-laquered. Baritone - Yanagisawa bronze BWO20 UL.
Soprano - Yanagisawa S9937 UL solid silver, curved. I love my S992 too but this beastie just seems to have a touch more breadth and fullness.
Mouthpieces
Tenor - Hard rubber pieces, 115B, by the late Ron Coelho, an American maker, called RPC. 
Alto - RPC 110B by Ron Coelho
Soprano - RPC by Ron Coelho
Baritone - RPC by Ron Coehlo
Sopanino - Selmer (no markings)
Reeds
I use D'Addario Select Jazz filed on all horns. 2S on Soprano, 2M on Alto, 3S on Tenor and 3M on Baritone.
Wall Stands
Snake is really impressed with the wall stands designed and made by Paddy Melis, a sax wielding craftsman from the Netherlands. They are also available from www.sax.co.uk 
Sax Microphone
I have 2 great radio mics in my arsenal. An AMT LS Mic and Quantum 7 radio system. The transmitter clips to the mic arm, so no wires. And an SD Systems LCM85W which also has a transmitter on the mic arm. All I want is to sound like me but a bit louder to match the drums and guitars and reach the back of the hall! I've tried the lot and these are the best I've found.
Flutes
Concert - Flutemakers Guild with Mike Allen head-joint
Alto - Armstrong with Mike Allen lip plate
Whistles
Whistles by Willy Simmons and Chris Backhouse